I had my final "flowers" Wilton class Thursday night, and decided that instead of just doing ONE cake that I would throw all the flowers/techniques we learned on (you know how it is when you have a cake and it gets cut into, right.... you gotta eat it from there! and guess would would be eating all that freakin cake....), that I would make some mini cakes (3 inch rounds) and have them each reflect a few techniques/flowers that would be more elegant and "photobook" worthy, for if/when I decide to start selling my cakes. I had to bring James with me to cake class. He was mostly a doll, playing in the other room with another child and leaving me in the main room to work.
I was doing some precise piping on the side of my 2nd mini cake and my teacher suggested that I put my turntable up on a box to pipe, so I could rest my elbow on the table and keep my lines very neat. When I was 1/2 way through, James ran up to me and gave me a big hug while I was doing some piping work. I told him thanks nicely and hugged him back, but to please not do that while Mommy was working on the cakes. After he left, I said to the other ladies that he was my tiny tornado, Senor Destructo and how I usually waited until after he went to bed to decorate the cakes.
Not 1 minute later, for absolutely no reason that any one could see..... the turntable slipped off the box and the cake flipped off and landed on it's side on the chair and stuck. *sigh* Karma will get you every time!! And laugh like a loon while she's at it!
Mini cake before it got decorated:
Inspiration photo:
And after, lol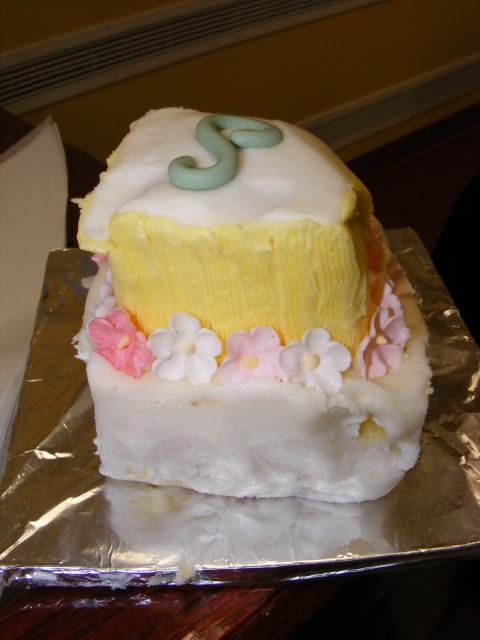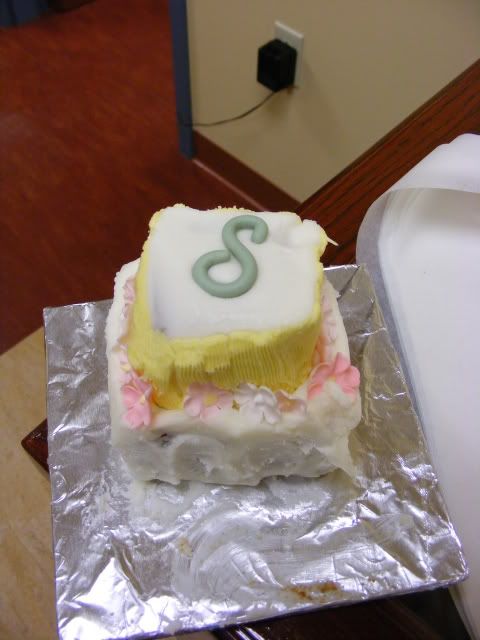 There was just no saving it! lol
So here are the other cakes I did in class.....
/
This little cake is obviously not finished... I would have to put grass in the basket and around the bottom, hide the eggs under the daffodils, add more daffodils on the other side, ect to finish it..... but don't you just LOVE the mini peep and the eggs??!?!
AND
Cake Disaster part 2:
It was so cold thursday night (like 35 degrees) that, since my fridge was full, I was going to leave the 2 finished, one 1/2 finished and smooshed cakes out in their box in the car and I would retrieve them in the morning.....
You see where this is going??
I totally forgot them this morning and didn't remember until about 2 pm when we were in the midst of our long awaited warm up! lol It was 65 outside and probably 85-90 in my car! The blue cake with the flowers was frosted with "decorator" icing (not buttercream) and was looking the "worst" for wear, sagging limply in its lovely pool of oil that had managed to run off the board and seep through the bottom of the cardboard box (not cake box... just plain cardboard, *sigh*) onto the seat of my car. The other 2 fared better in the looks department (having been made will really nice buttercream with expensive butter, and the chocolate held up the best of the bunch) but I wouldn't touch them with a 10 ft bottle of antacid now. It hurt me, but I tossed them all in the trash. I had to.
So to recap.... plan: 4 mini cakes so I can freeze them and don't have to eat one big cake in a sitting or give them away to Zero cakes, a destroyed kitchen, a 6yr who will never forgive me for throwing away cake! and a cleaning bill for the big oil slick on my passenger seat where the shortening piddled through my cardboard box, lol
Coulda been worse, right?