Yeah... I know I'm 5 days late! lol... so sue me! I hope these adorable pics will make up for my horrible oversight.
Mea culpa... mea culpa.... mea culpa!
And now..... (drumroll please)
The cutest firefighter EVER!!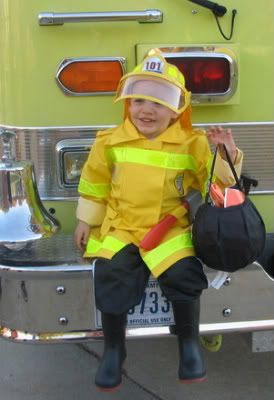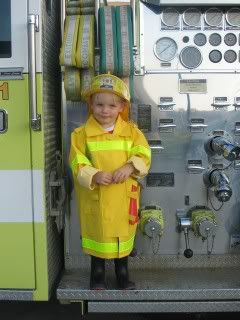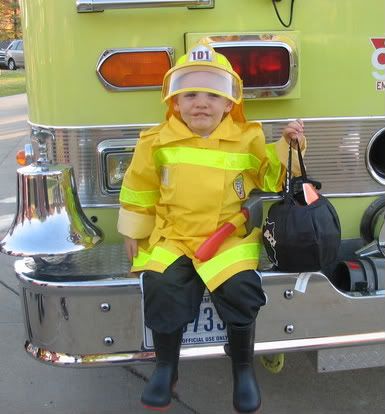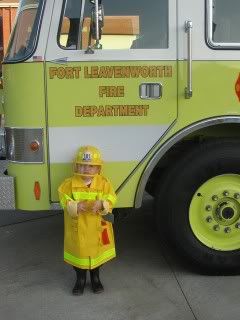 We started our evening at a Halloween party given by Housing at the Firehouse. We saw several people we haven't seen in a while and got to visit with several friends. It was a fun, fun time for all! While we were too late for James's section of costume judging, he did get to eat hot dogs and chips, run around with friends from school and then join up with the local volunteer fire department and work on clearing the area of those pesky trees that desperately need to be chopped down by plastic hatchets...
There were originally four... but the youngest firefighter needed to go potty so I wasn't able to get the picture with all four of them.
James with the Fire Dog
FireDudes!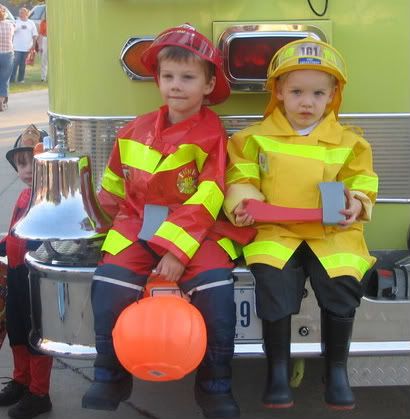 We had such a good time! It was REALLY hot though... and poor James looked like he'd been hosed down under that helmet... and yet he REFUSED to take the costume off in the car on the way home! lol I practically had to bust out the Jaws of Life to get it off at the end of the evening!! ~insert eye roll here~
We hooked up with a family down the street for TOTing. So it was James and I, my friend Leah and 3 of her kids. And we walked....
and walked....
and walked...
and walked...
lol
We ended walking around 2.5 miles.... and with a 4 yr old and a 2 yr old, that is a LOT!! lol Too much candy and too much fun (on top of going to school, where they had a fall festival, that day too!) wiped the littlest fire fighter out and he went a-snooze in his bed with dreams of sugarplums and sirens!