*WOOSH*
You hear that?? It's the sound of time flying by!
Another first day of school... another year gone by. My baby is a 1st Grader now! He is officially a Big Kid. He no longer has to play on the "baby" playground, there are no toy stations in class and he doesn't get snack or quiet time in class. He. Is. Thrilled! lol
He loves his school and his teacher. We met her yesterday when we brought up his school supplies and he charmed the pants off of her. "You are even more beautiful in person than you are on the computer!" he said to her, lol.
I really love our school. His Kindy teacher and the principal went to extra pains to make sure James had the "right" teacher this year. And Mrs. Crader seems to be a perfect fit! She has really thought ahead to having James in her class and has strategically placed him with the right kids in the right area of the room, so he can be himself, but not be isolated. I really appreciate that. I wish we could take her to Germany with us!!
Anyway... I'm sure you are not here to listen to me babble, but to see pics of my gorgeous boy! lol So here you are!
By the big ole tree (*sniff* our last 1st day pic by the tree!!)
Oooooo look... I must stomp it!
Handsome guy!
At school
At his desk (I took these yesterday at the Meet N Greet)
*sigh* Where does the time go?
As I do every year, I'll give you a brief retrospective of 1st days past:
Kindergarten (5 going on 6):
Pre-K 5 day (4 going on 5)
PDPS 3 day ( 3 going on 4)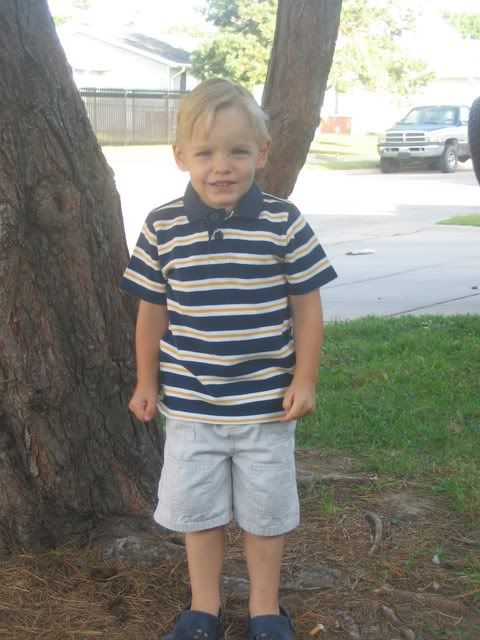 Part day Preschool 2 day (just 3 yrs old!!)