**Warning - Picture overload ahead!!**
James's birthday party was in September and since
I am not above tooting my own horn
most of the people who read this blog weren't able to be there, I thought I would share the cupcake train I made for him instead of a cake. I was really pleased with the outcome.
The finished product: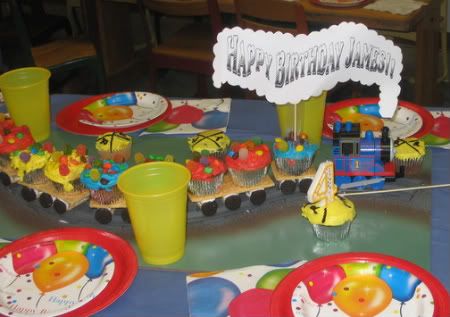 It was a HUGE hit and I'm glad that we used it as the centerpiece on the main table. You should have seen the kids' eyes!! They were as huge as saucers when they saw it.
*phew*
From inception to completion!
I was researching "train cakes" in anticipation of James's birthday and came across this
Thomas Cupcake Train
and thought "PERFECT!! James will LOVE that!!" And he did!
Now the problem was, how should I construct it?? I wasn't a huge fan of the triple wide cars and the construction paper tracks (I knew I could go way cuter! lol) so I had to come up a solution that I could live with, but that wasn't going to a) break the bank or b) make me go insane with the construction.
And then I had it! I'd use the tracks and Thomas from James's leggo Thomas set! Perfect! I set the tracks up a few different ways before I finally decided the classic serpentine was the way to go. I calculated the size of the board that I would need to use and sent my minions to Home Depot to fulfill my wishes. The larger of the minions also painted the board green for me.
Since I CAN'T just have a cake on a green board (oh no!! That makes no sense!!) It must look like (a close approximation of) an actual train bed.... which of course necessitated another trip to the Mart of W for 2 different colors of special stone texture paint! I laid the tracks out, marked the board with chalk, and went to town. (Shoulda been a tagger.... I haz MAD skillz with some spray paint!)
Once the board was done... the rest, you might say, was cake! lol I glued the tracks down (with royal icing... can't make this permanent!!) and constructed the "cars" on Thursday night before the party.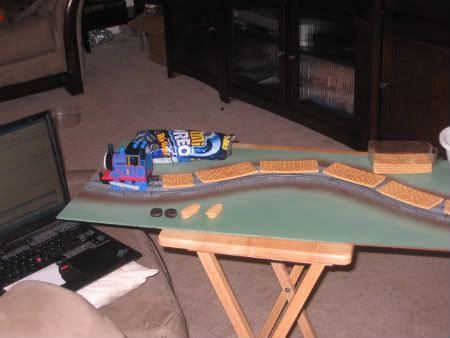 I made the "cars" out of graham crackers, graham cracker sticks, mini oreos and royal icing. I glued 3 graham cracker sticks per stack with royal icing and let them dry. I glued mini oreos on each end of each stack when they dried. I used 3 of these stacks per graham cracker (again... glued on with royal icing) to construct each individual car.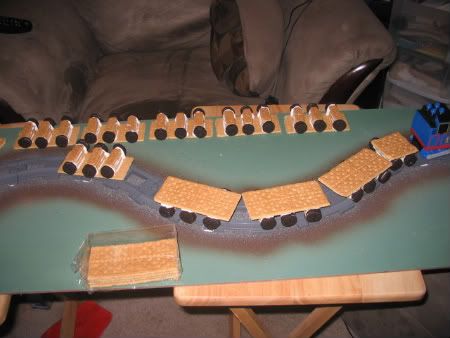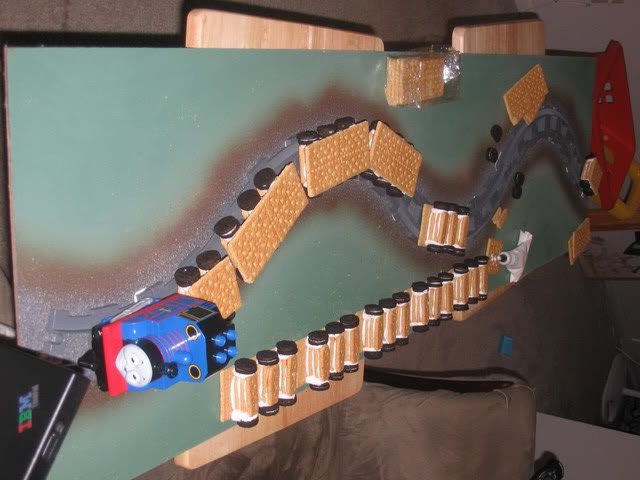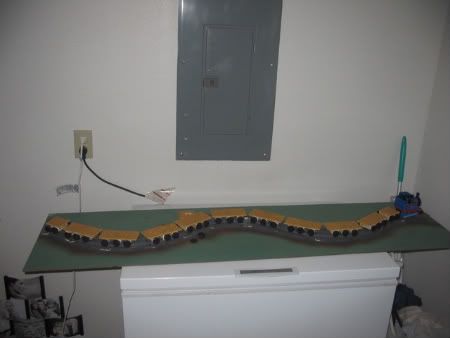 Friday night, James decorated all the cupcakes (with mommy frosting and helping of course) We had a blast and I'm reasonably sure there were more M&M's in the child than there were on the cupcakes... eh... it was his birthday, why the heck not? I *was* going to make the Thomas out of cake, but a very brilliant friend of mine told me to "Reel in the Crazy, Sharon", lol. I am STILL grateful.... I think I would have seriously lost my mind! (Thanks Tracy!)
I don't have any pics of James blowing out his candle. ~insert sad face here~ Something ALWAYS seems to happen to prevent me from getting that picture. This year it was a huge lemonade tidal wave.... but I guess that's better than his 1st birthday, when one of the guests projectile vomited all over my kitchen! lol Ahhhhh.... the memories.
And speaking of memories.... here is a short retrospective of birthday cakes past....
1st - Lion cake
2nd - "I-2 Highway" cake
3rd - I punked out and bought a Thomas cake from the commissary.
The little traitor
James
loved
it!